Weedpatch receives hot Thanksgiving dinners: 'The need is great, and the impact is great'
By EMMA GALLEGOS egallegos@bakersfield.com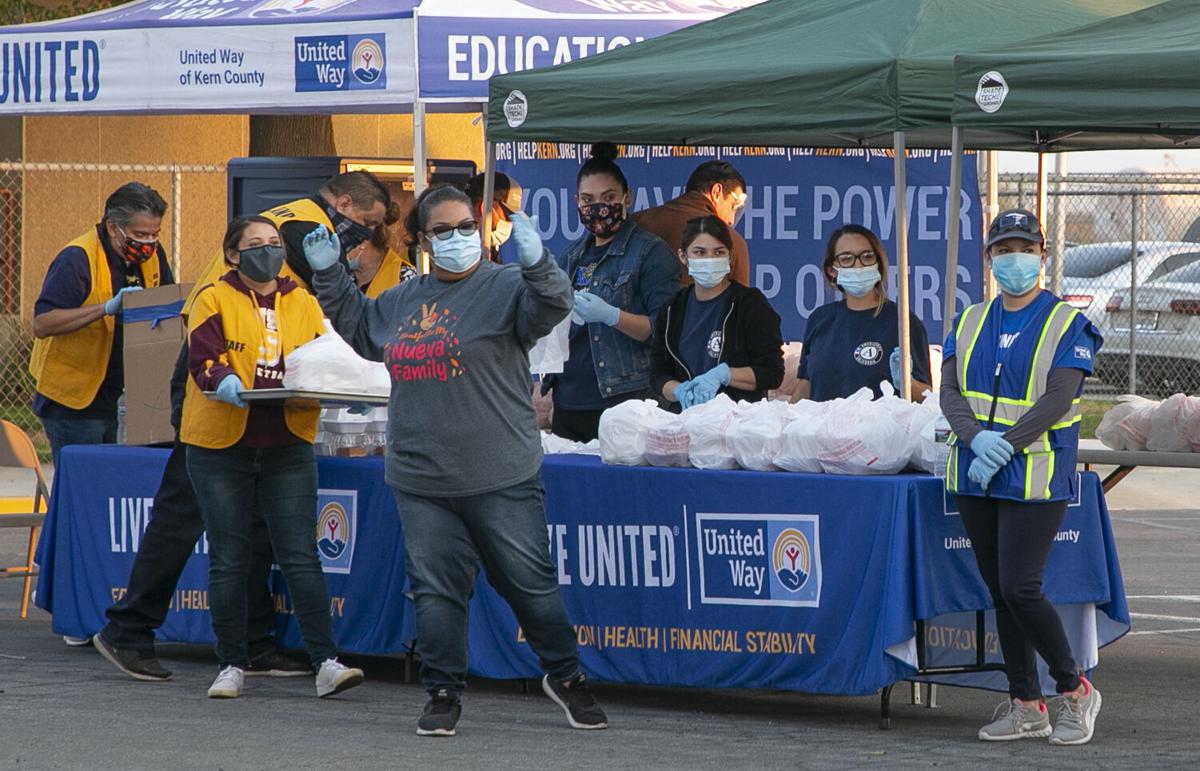 The biggest Thanksgiving dinner event in south Kern was a drive-thru event at Sunset Middle School on Tuesday afternoon.
Everyone in attendance was given a traditional turkey dinner with mashed potatoes, gravy, vegetables, a dinner roll and dessert. People from Arvin, Lamont and Weedpatch were lining up in their cars by noon, even though the distribution wouldn't start until 3:30 p.m.
By that time there were four rows of cars in orderly lines down the block. A single file line of cars trailed around the corner. In those lines were all sorts of families: grandparents taking care of their kids, one man who said he was taking care of his wife with cancer and lots of moms with their kids. Some dogs were along for the ride, too.
United Way of Kern County worked with Vineland School District over the summer to pass out 60,000 meals to needy families in communities where many farmworkers live.
"This area gets neglected," said Mari Perez-Dowling, president and CEO of United Way of Kern County.
United Way of Kern County has continued to do events in the South Kern District — such as a backpack giveaway and trunk-or-treat event — but they wanted to do something big for Thanksgiving. And not just because it's a holiday: When school is out, children may not be getting fed the way they normally are by schools.
"We said, 'Let's do something major," said Dolores Espinoza-Torres, the district's categorical programs secretary.
Vineland was able to find the funding to pay for the students, and United Way of Kern County found sponsors who could cover the adults' portion. The number of meals went up from 1,500 to 2,000. The pandemic has created dire need, but Perez-Dowling also said that she's seen some local businesses step up to help south Kern that hadn't before. She hopes that continues.
"The pandemic pushed us, and it's been successful," she said. "This is what it should be like."
It was really a community effort. People with Americorps, the Lamont Chamber of Commerce, Vineland teachers and others worked with United Way of Kern County to pass out meals.
Assemblyman Rudy Salas helped out, waving in cars and wishing them a good Thanksgiving. He said meal distribution events like these make a big difference in these communities.
"We know the need is great, and the impact is great," said Salas.
Those interested in supporting United Way of Kern County can go to HelpKern.org.